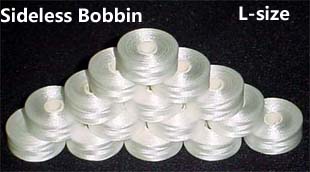 "L" type prewound bobbin can be used for approximately 60% machines.
Although some machine manufactures warn not to use prewound bobbins, it is a fact that most of the embroideriers do use them. It is very important to make sure you use a good quality thread and clean the bobbin area steadily.
Prewound bobbins hold up to three times more thread than self-wound bobbins, so the advantage is in saving time and not having to wind your own bobbins.
L type : 125 meter/pcs, 144pcs/box, 40 boxes/ carton, total amount 5760pcs/ carton

M type : 250meter/pcs , 100pcs/box, 40 boxes/ carton, total amount 4000pcs/ carton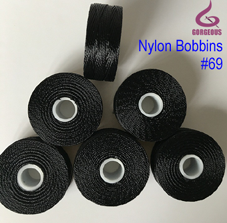 กก
All machines come with bobbin winders, so you have the option of a prewound bobbin thread or winding your own. Usually we recommend nylon prewound bobbin#46 & #69.
Our nylon prewound bobbin #46 & #69 could meet almost all specifications for automotive, furniture, and industrial use. If you need other styles of bobbin thread, please feel free to contact us.