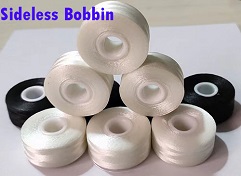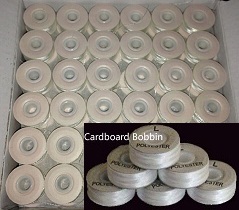 Prewound bobbins have grown in popularity now. The convenience of not having to wind your own bobbins is what makes prewound bobbins so valuable. A typical prewound bobbin will have between 20% - 40% more thread content compared to a self-wound bobbin. This is because prewound bobbins are wound with advanced machinery at a high speed. Although some machine manufactures warn not to use prewound bobbins, it is a fact that most of the embroideriers do use them. It is very important to make sure you use a good quality thread and clean the bobbin area steadily.

Our prewound bobbin 75D/2 sideless could meet almost all specifications for automotive, furniture, and industrial use. If you need other styles of bobbin thread, please feel free to contact us.

"L" type prewound bobbin can be

used for approximately 60% machines.

75D/2, polyester, style L, sideless, white/black
70D/2, polyester, style L, cardboard, white/black
420D/1, nylon, stye M, sideless, white/black/color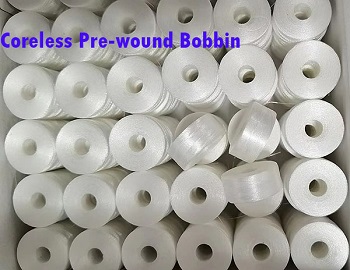 Coreless Prewound Bobbin
Our coreless prewound bobbin is a type of preowound bobbin without core and sides, it can offer superior quality, consistency and cost-effectiveness.
Decrease unnecessary damage to bobbin case because of professional bobbin winding.

Prolong embroidery needle life due to elimination of contact with metal bobbin or plastic core.

Very convenient for the operator in terms of production usage and production management

Significantly improve embroidery productivity and quality.